Designer Says, Samsung Electronics had urgency in retrieving delay before Apple.
Consequently, engineers have opted for style concept similar to the iPhone.
In a book published in 1997, Lee Kun-hee, chairman of Samsung, wrote that a successful company needs "a keen sense of crisis", so you can always be looking ahead even when you're doing well, and capacity responding to changes.'s the creed that led
Samsung Electronics to become the world's largest technology sales
It sells more televisions, memory chips and smart phones than any rival – and made it an example for many Chinese companies wishing learn the secrets of successful South Korean. But after U.S. court ruling last month that Samsung ordered to pay more than $ 1 billion in fines for copying key features of the iPhone, the structure and decision-making group where everything happens from the top down, were accused of stifling the creativity of the company.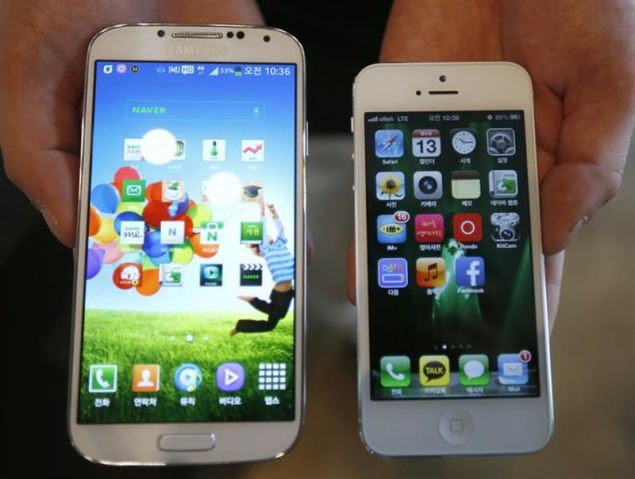 What was good to do things quickly, for example, in taking bold decisions on large investments in chips and screens, may not be the best formula for a company that now has to stop being a "fast follower" to become innovative their own right. Inside the Samsung, where some designers feel neglected and weakened, there are calls for a change of course. A theme of "constant crisis" worked well, helping Samsung Electronics to surpass Japanese brands like Sony, Sharp and Panasonic in chips, televisions and screens, take Nokia's supremacy than a decade in cellular and overcome Apple in smart phones. But all this was accompanied by a label detrimental to innovation: that Samsung manufactures imitations. Between Heaven and Earth "It is a crisis of design," said JK Shin, president of Samsung's mobile division to his subordinates in February 2010, while the company worked on its first Galaxy phone as hasty response to the success of the iPhone at its launch, according to an internal company document submitted to the U.S. court as part of Apple. "All this time, we have been providing all Nokia to our attention and focusing our efforts on things like 'bend', 'bar', 'slip' and when our user experience is compared to the unexpected iPhone competitor, the difference is really between heaven and earth.
The sense of crisis and urgency to catch up before Apple took the engineers and designers at Samsung Electronics opting for a concept that matched the look and style of the iPhone, according to a designer at Samsung Electronics who asked not to have his name mentioned. "Designers have many creative and original ideas, but we must decide that staffs like them. The problem is that, because they were so fascinated by the Apple design, these ideas were not really satisfactory for leaders," said designer. "For me, in other companies, top executives respect the decisions of its leadership in design, but they contradict the Samsung designers and have the responsibility for choosing the final design we adopt. This limits our ability. To be more a good follower, Samsung Electronicsneeds more horizontal culture and more power to the designers. " An executive at Samsung, who asked that his name be withheld, countered by saying that at the beginning, the company innovated little – even had difficulties to produce Simple black and white televisions – but now uses incentives and subsidies to promote new ideas, and that Lee is very interested in new technologies and design. A recent example of the heavy command structure came less than a fortnight before the launch of the Galaxy S smart phone III, in May, when the vice chairman Choi Gee, ordered half a million carcasses blue phones were thrown away because the design, which wore thin silver stripes, was unsatisfactory, according to a source who knows the case. After changes, Choi approved the final design on a Sunday, just ten days before the launch, causing a tightening in supply and delaying initial shipment of about 2 million units, according to some analysts. Males of Samsung Confirming reputation for speed and agility of the company, the life cycle of mobile devices from Samsung is shortening. It introduces new products every six months. On Wednesday (29), the company surprised the show a new smart phone equipped with the operating system Microsoft, anticipating the announcement to hit the market before Nokia. "No matter the obstacles, Samsung will continue to offer excellent products, innovative and unique to stand out in the industry," said Shin, the commander of the mobile company, during the largest European electronics fair in Berlin. He also praised the company's executive board, called "men of Samsung", and trained in the 1990s with the help of the text "The New Administration of Samsung Electronics", which summarized the statements of Lee and his sense of crisis.
Comments
comments