[pullquote_left]Diamonds are made of carbon and molecules and that can be change. If any mistake occurs during the cutting process for World's First 150 Carat All Diamond Ring, it can change the color of diamond. They purchased special laser equipments to cut it directly into the diamond with full accuracy. And the most important aspect is to cutting an entire stone into a ring without damaging the integrity of the diamond.[/pullquote_left]
[dropcap]D[/dropcap]
iamond is not a new word for this world; it has taken place in the hearts of people as the symbol of luxury from thousands of years. Each and every thing attached with diamond gets more beauty and value till today. The relation between diamond and jewelry is very deep. The jewelry would looks always incomplete and not more beautiful without adding diamonds in it.
 But imagine, if diamond takes place as jewelry itself, it's not looks like a dream? Yes, before it comes into the mind of president and CEO of Shawish Geneva "Mohamed Shawesh". But when Mohamed Shawesh thought about this thing he started working to make this dream comes true, he created world's first diamond which is jewelry itself. He carved a 150 carat pure sparkle wisely and gave a unique diamond to the world which is a ring itself. To win hearts of many women is very easy for this all diamond ring.
 Shawish Geneva is a luxury Swiss jeweler. According to its president and CEO Shawesh, they have done lots of research-experiments and hardworking to get the precision of the circle right. He says that, Diamonds are made of carbon and molecules and that can be change. If any mistake occurs during the cutting process, it can change the color of diamond. They purchased special laser equipments to cut it directly into the diamond with full accuracy. And the most important aspect is to cutting an entire stone into a ring without damaging the integrity of the diamond. This 150 carat sparkle has taken one year of time to reach its final destination, which is to be a luxurious ring of 70 million dollars. We are very eager to know your opinion about this world's first totally diamond ring.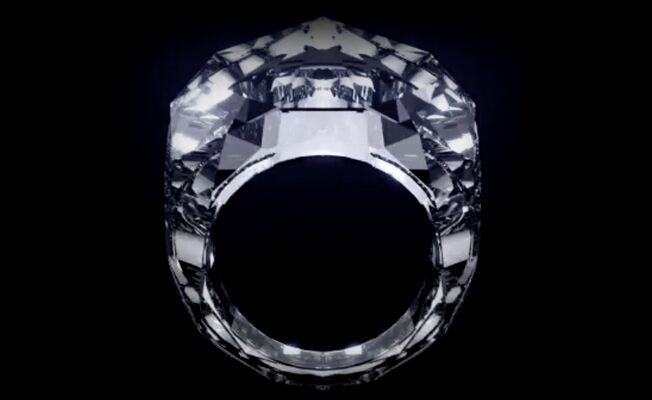 Comments
comments